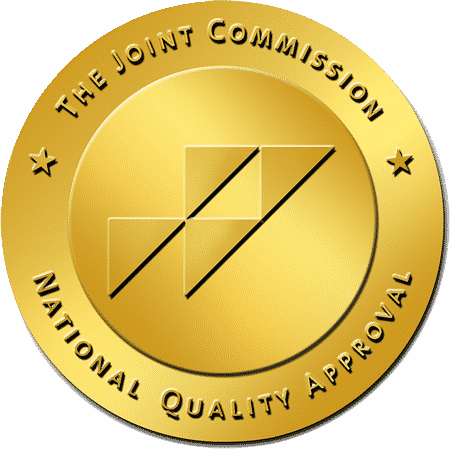 La Hacienda's commitment to providing safe and effective care for persons recovering from drug and alcohol addiction has earned it The Joint Commission's Gold Seal of Approval® for behavioral health care.

A thorough on-site inspection in February checked the center's compliance with behavioral healthcare standards in several areas, including care, treatment, and services; an environment of care; leadership; and screening procedures for the early detection of imminent harm.

"We are pleased to receive accreditation from The Joint Commission because it is the nation's premier healthcare quality improvement and accrediting body," said Beth Fearing, the center's Facility Compliance Advisor.

"Accreditation strengthens La Hacienda and proves that it provides high-quality care," she said. "Our staff consistently work together to develop and implement strategies and processes for improvements to our services and the care we provide based on the Joint Commission's standards."

Maintaining high values in all areas is an ongoing goal at La Hacienda, she said. "Our staff constantly work together to develop and implement approaches and strategies that improve care for those we serve." The Joint Commission has accredited La Hacienda since 1976.

La Hacienda serves approximately 1,500 patients annually and has a staff of 183. Individualized treatment programs include detoxification, physicians who see patient's daily, a consulting psychiatrist, a comprehensive program for patient's families, and evidence-based therapies.

The Joint Commission's behavioral health care accreditation program currently evaluates more than 2,250 organizations. Accreditation is good for a three-year period unless the commission revokes it. Behavioral healthcare treatment services include mental health, addiction, eating disorder, intellectual/developmental disability, and/or child-welfare related needs.

The Joint Commission accredits and certifies more than 21,000 health-care organizations and programs in the United States. An independent, nonprofit organization, it is the nation's oldest and largest standards-setting and accrediting body in healthcare.

La Hacienda Treatment Center is dedicated to serving the needs of alcohol and chemically dependent individuals and their families. With over 40 years as a highly reputable treatment facility, La Hacienda focuses on working closely with referring professionals to ensure the most effective and successful solutions to recovery.